The Man in the Wide-Awake Hat Diary
5th July 2012
In Search of the Beautiful again, again … again.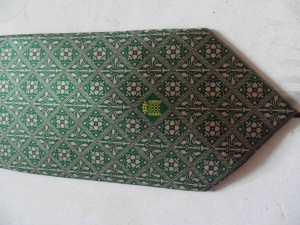 Part 3 of a series of at least three.
Dear Reader, as promised in the last post, the Houses of Parliament Pugin design silk tie … steady, steady, calm down … don't get too excited … it is only a tie! A special tie admittedly and will only be worn on official The Man in the Wide-Awake Hat occasions. For those new to the blog who might be a bit confused by the excitement that this tie may cause, please scroll down and find out all about it in the previous post … and where have you been until now, for goodness sake?
So where did we get to? Ah yes, there was lots of agogging going on in the last post … that was me being agog at some of the most amazing design in the Houses of Parliament. Well, since then so many things have happened on the trail to produce a piece of theatre about AWN Pugin that I am still agog. For a start, I have asked one of the most exciting and perceptive of Directors, if she would direct the play for me … and she has said "YES" … hooray. Who is she, I hear you ask? Well, Dear Reader, she is Ellie Jones (check out her website which is www.elliejones.co.uk )she specialises in making "extraordinary things happen in the most unlikely circumstances". It works for me! And I believe that it will work for The Man in the Wide-Awake Hat too; it is no ordinary play and it is being performed in unlikely places. We had a nice long chat about the project this week over tea and iced fancies … actually I lied about the iced fancies, I did mean to buy them but I forgot, buffoon. And, as always, it was me who did most of the talking but Ellie does have the uncanny knack of asking the most pertinent and penetrating questions that leave a chap floundering … though, I pulled my homburg down over one eye, clamped my teeth around a cheroot and, in my best Philip Marlowe voice, said … "You won't catch me with that one, I got an answer for everything" … which gave me just enough time to come up with an answer for everything. We had a good chat and I think that we will be able to work together brilliantly; we seemed to be on the same wavelength: well at least Ellie was.
Earlier on in the week I had a meeting with Emily P … of Scandalmongers, website www.scandalmongers.co.uk about workshops, talks and "sharings" … over a glass of beer and a plate of iced fancies … sorry, once again I lied about the iced fancies, I forgot to buy them; buffoon. Emily has been sorting out all of the above as part of Mischievous Theatre's ongoing community and education programme. It is really important to me to increase people's awareness of AWN Pugin, his work and connection to Ramsgate and also to give people the opportunity to work with professional (and fabulous) artists and to connect with other like minded, and especially, differently minded people. It is what makes the world go round. PAUSE. Sorry about that little pause but I just had to check out the window that the world is still going round … it is!
Last week I had a meeting with Ben Wakefield and Alix Cavanagh, about the Education programme over a beer, curry and a plate of iced fancies … no, no, no … there were no iced fancies but there was a complimentary rice pudding … riced fancies? Anyway, we are putting together an education programme for Primary and Secondary Schools for next term. We will be working on different areas of the curriculum using AWN Pugin and his work as a catalyst to some pretty cool stuff. Again, it is very important to me that we try as hard as we can to acquaint people with AWN, his work and also to increase people's awareness of the built environment that we live in; the reasons that buildings look the way they do, what effect they have on our sensibilities and the difference that the sheer beauty of well designed objects can have on our well-being. Pugin changed the face of Britain, as Rosemary Hill says in the prologue to God's Architect, "He gave the nineteenth century a new idea of what architecture could be and mean." It seems to me, in more recent years, that we have become a nation of people who either don't notice the built environment around us or are unable to say what we like or how something makes us feel … we are very good at articulating what we don't like but we need to be more positive, we need to be given the vocabulary to be able to give an opinion on architecture, particularly public architecture and that is what we are trying to achieve, in a small way, with our education programme.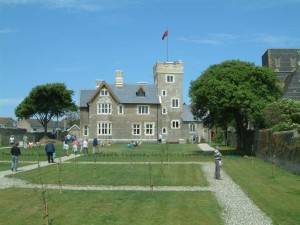 I also had a great afternoon with a group of elderly ladies and gentlemen at Napleton Court, Ramsgate, talking about Pugin, his buildings and designs and about the play and Mischievous Theatre and … all sorts of other stuff. One lady was particularly interested in stained glass windows … so I'm dropping a few pictures in to her that I took on my travels. One lady told me that she had never been to St Augustine's Church, nor had she heard of Pugin and she has lived in Ramsgate for many a year. I said I thought it was a shame that she hadn't seen it and that she ought to pop in, she said she'd try. When I got home, after making a bit of an idiot of myself by getting a traffic cone stuck under the car (I didn't see it), I thought about what she'd said and knew that the reason that neither she nor lots of others had never heard of him was that we don't make anywhere near a loud enough song and dance about him or his legacy here in Ramsgate. A few weeks ago I had a conversation about a Pugin Museum or Visitor's Centre or similar here in Ramsgate, I know it fell a little bit on deaf ears but I can't help feeling that we are missing a trick here. The lovely Suzy often tells me that she has people in the shop (Nice Things down in the Custom House on Harbour Parade www.nice-things.co.uk )who have come from all over the world … yes, that spinning world … to Ramsgate because they want to see Pugin's House and the museum … erm, there is no museum and the house is only open occasionally … oops! If we had a decent museum or visitor's centre it would attract hundreds of visitors a year who would all spend money here in Ramsgate: we could increase the wealth of the town enormously and it would be of huge benefit to the culture and education of young and old alike of the area. So, come on people, let's do something about it!
Dear Reader, thus endeth the lesson for today. I've got the finishing touches to do to an article that I've written for Sursum Corda, the magazine of St Mary's Cathedral, Newcastle, some information to write about the talks and workshops that we are offering and I need to think about a film that we are making for WE FUND … we are trying to raise some money for specific parts of the whole project and thought that it'd be worth having a punt on this particular funding website (as soon as we have made the film and put it up we'll let you know) and I've also got iced fancies to make for another meeting tomorrow … I can't be caught again with my iced fancies down.