The Man in the Wide-Awake Hat Diary.
Plan B or is it C … or G or …
Dear Reader, it is such a long time since we've chatted but I've been on my holiday, to sunnier and warmer climes, (the photograph of a slightly bendy spire might give you a clue as to where I've been: I'll tell you at the end of this post) and since returning Yours Truly has been working like a lunatic on all things Pugin … except for the blog of course. So, what have I been up to? Well, just before my hols we had a bit of a sharing of "The Man in the Wide-Awake Hat" script … there is about nine hours of it at the moment (perhaps it needs a bit of streamlining). A few professional theatre chums got up and under the guiding eye of the ever-brilliant Ellie Jones (Director and all round good egg), performed in front of the assembled crowd … this was the first outing of the main project. All went well … except that the video camera decided that it wasn't a video camera (it thought it was a toaster, I think) and the result was two and a half hours of unusable film but lovely toasted wholemeal. Doh … technology! The evening was incredibly useful though; it gave me lots of thoughts to mull over and lots of changes to make.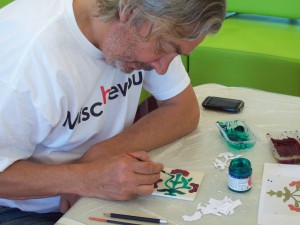 Since getting back from a very relaxing time in (?) I've been attempting to streamline the far too flabby script, as well as working on a couple of other, unrelated, projects and we've been running a number of workshops with people young and people older. We've done a few more tile painting workshops: the we being me and Emily Tull, a fabulous community artist who has been running some tile painting workshops around East Kent; she even got me to paint a tile based on a Pugin design … and to prove it, here is a photo … see the concentration on my face! (And far too many chins I note) I have also been doing a number of talks about Pugin, his work, the world he lived in and how we are going to turn all of what we know into an exciting, intriguing and entertaining piece of theatre. We've got a few more booked in over the next month or so for the public, so try and get along to one if you can … September 1st at the Maritime Museum, Ramsgate at 7.30 pm, September 7th at Crampton Tower, Broadstairs, also at 7.30 pm and others that I'll post nearer the time. I am also about to start running a few drama/theatre workshops and writing workshops for any groups that are interested (e mail me). And once the schools are back after their hols, we'll be sending out information about how they can get involved too.
Since we last chatted, Dear Reader, the project has grown and grown … it seems that every day there is another strand that has to be somehow incorporated, another venue that is interested and more people who want to get involved. Who would have thought that eighteen months ago I was thinking of doing a "little play about Pugin" … something that could be performed in an arts centre or small theatre and would have three or four performers in it and would probably run for a month or so … we are now looking at a much larger show, therefore much larger venues and a much larger cast … not to mention a much larger Educational/Community involvement strand. And it is partly because the project has grown so much that we are now on Plan B or C or even X by now.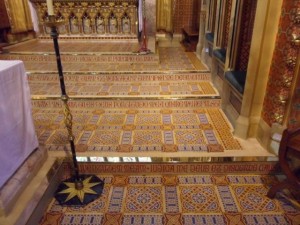 I have been wondering for a few weeks how we are going to get everything done in the time frame that we had given ourselves and I was, quite frankly Dear Reader, starting to worry that we wouldn't be able to allow the performance to expand to its optimum size. When I went up to Cheadle a couple of months ago and chatted to the lovely Hannah Barter at Urban Vision North Staffordshire as she showed me around the gem of a church there, I was thinking that perhaps we would have to rein the project in a bit and sacrifice some of the fabulous ideas that we have. Hannah told me about the huge amount of events that have been going on during this bi-centenary year and she was trying to find a way to continue to keep people interested in Pugin and his work into the future and perhaps there was an argument for carrying some things over into the next year: legacy and all that.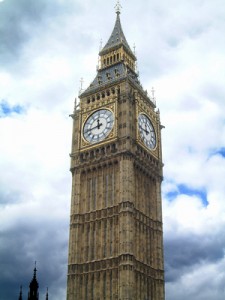 So, Dear Reader, with all this buzzing around in my easily befuddled head, Suzy and I went to the Houses of Parliament last week, to talk about the possibility of performing The Man in the Wide-Awake Hat there … be still my fluttering heart, stomach and … other areas. And, as it happens, there is a distinct possibility of performing the show in Westminster Hall but … not until May/June next year but would we be able to do something on a smaller scale for November during Parliament Week? So, on our way home on the slowest train in the world (it seemed to stop at stations in places that don't even exist), we talked about what to do now. We had to get back and then go straight off to another meeting about Ramsgate Arts' Summer Squall (Ramsgate's Arts Festival that happens Bank Holiday weekend 25, 26 and 27th August; do come if you can) and I have to say, Dear Reader, that my heart wasn't really in the meeting and I became a slightly grumpy little sausage. I sometimes take it upon my self to play the sausage role. Baboom Tsss!
So, after another meeting or two with some of the partners and funders, we have decided that there is going to be a two pronged attack on the arty sensibilities of anyone who is in the market for a prolonged Pugin-fest! It is worth it Dear Reader, I promise. In November, Mischievous Theatre is going to produce an intimate evening with AWN Pugin … it hasn't got a title yet but it will be a short performance piece based on Pugin's life (and death) in Ramsgate and the astonishing and monumental amount of design work that he did at that time on the Houses of Parliament for Charles Barry. And then, in May/June next year, The Man in the Wide-Awake Hat will take to the road in its original and much larger form. So, two pieces of theatre for the price of one … well, almost … we will have to raise a little bit more dosh but I think, when we reveal the two projects fully, people will be falling over themselves to press dirty five pound notes into our eager and hard-working palms … won't they?
And if not, I think I've found the perfect way to slow them down a bit so that I can sit down and chat with them face to agonised face. The implement on the left is a Gin Trap … a bit like Suzy but that is another story.
Oh, and by the way … I went on holiday to France … the slightly bendy spire is on the church in the beautiful town of Conches.