What are we up to now?
19th April 2015
If you scroll ⬇down, down, down … you'll find the very beginning of this blog … which started three years ago. The Man in the Wide-Awake Hat blog has now migrated to …
http://thewideawakehat.wordpress.com/the-blog/
The Man in the Wide-Awake Hat Facebook Page can be found at:
http://www.facebook.com/TheManInTheWideAwakeHat
… there is also a The Sagas of Noggin the Nog blog, which can be found at …
https://nogginthenogblog.wordpress.com
The King of the Nogs Facebook Page is here …
https://www.facebook.com/kingofthenogs
… but now for something completely different …
I Have Lost Myself …
A brain rides on a train. A traveller forgets where he is. Two neurons go into a pub. Roads fall off a map. A man remembers only things that never happened.
I Have Lost Myself … uses text, sound, images and action to take you on a befuddled adventure through the shattered world of Alzheimer's Disease.
A non-linear fragmented narrative blunders through a diseased brain, a sketchy biography of Alzheimer's Disease and the erratic memory of an unreliable narrator.
I Have Lost Myself …
… is Mischievous Theatre's newest project. So new, in fact, that we're still not entirely sure what it is or how it works. We will be performing a work-in-progress version in May 2015 at Theatre Royal Margate (if you want to come along, follow the link below for more details). It is an investigation into Alzheimer's disease. Some years ago my mother suffered with Alzheimer's. This piece of theatre/performance art is based on thoughts, images, ideas and suppositions that came into my mind as I spent time with her. I will say no more now but will add more information, images and thoughts as we find out more about the project. So, see you later …
The Man in the Wide-Awake Hat: Pugin's Gothic Adventures will be touring (hopefully) next year, 2016 … so, if you are interested in architecture, the Gothic revival, design and so on, please watch this space for more information!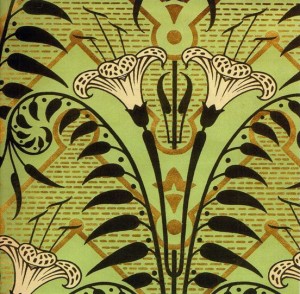 Gothic Lily Wallpaper by AWN Pugin.
Since I started this blog, well over a year ago now, so many things have happened … you can read about many of them if you scroll down ⬇ The play about AWN Pugin, the nineteenth century architect, designer and theorist has been on quite a  journey and it is still a long way from reaching its final destination … the sat nav has been thrown away and we're navigating by … well, instinct mainly I suppose. The play will be performed in Ramsgate, Kent, UK on the 19th, 20th and 21st September 2013 and, once we have found more money, it will tour … the world (well, bits of it). To keep up with events and dates and other interesting stuff to do with The Man in the Wide-Awake Hat: Pugin's Gothic Adventures follow the link; all the news is being updated on the new blog.
But just to whet your appetite: Clive is running a workshop; "Clothing the Skeleton", a practical workshop based on the methodology that we're using to create The Man in the Wide-Awake Hat and doing a talk "The Story of a Play", about the research, writing, the methodology used and how the play will go from page to stage at The Summer Squall, an arts festival in Ramsgate, Kent, UK on the August Bank Holiday weekend (24th, 25th and 26th August, 2013) run by Ramsgate Arts: take a peek at their website. http://ramsgatearts.org
If anyone else wants a workshop or a talk please let me know (It is probably quicker to contact me through the Facebook page, I look at that every day).
Other stuff that we're doing.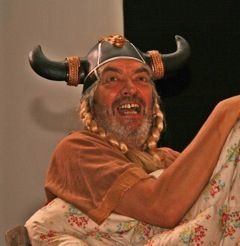 Queen Grunehilde the Lazy One; beautiful isn't she. Mischievous teamed up with Third Party Productions to produce The Saga of Noggin the Nog, based on the original films of Oliver Postgate and Peter Firmin. We toured earlier this year and the show, a real family affair, was a great success, we are hoping to tour it again next spring (2014) … we'll keep you posted here!
You can follow us on Facebook, just clickety click;  http://www.facebook.com/kingofthenogs
Or you can have a peek at the blog, though I haven't updated it for a while, its at: http://nogginthenogblog.wordpress.com
The future, beyond Noggin and The Man, is exciting. There are two new projects in the air at the moment, and two old-ish ones; all of which may or may not come to fruition (it is all in the lap of the recession, that we may or may not be in) but the new ones are completely different beasts. The first, a community based project, with the incredibly inventive working title of "Dreams", is about dreams and the second, again inventively titled "The B Movie", is a play based on those wonderful fifties and early sixties science fiction B movies … only instead of being set in small town Utah, it will be set in small town England. The two older projects that have both had mini-airings; "The Con Man", a one man show which may be increased to two, is based on the life of a Shakespearean Actor and concerns Kit Marlowe's demise and the second, "The Square", is a project that I wrote and had a rehearsed reading of two years ago at "The Summer Squall", and concerns the lives and events of people who live on a small square on one particular day.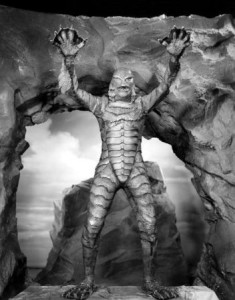 They came from outer space … or a black lagoon!
These are projects that I am quite excited by but I know that little will happen with them for a while as my brain is full … to the brim; but do keep checking on here to find out what progress, if any, has been made on them. This post is coming to an end … short but sweet … I have serious work to do on "The Man …" or there won't be a play!
Thanks for dropping in; see you there!