April 2016 … Where Are We Now?
After an exciting year of touring The Sagas of Noggin the Nog and showing I Have Lost Myself … as a Work-In-Progress piece at Theatre Royal Margate May 2015, we are heading into a new and slightly different 'unknown'. We seem to spend a lot of time paddling in the shallow end of the 'unknown'; it is an exciting place to paddle in.
For a start, we are creating a new performance for young people; 'The Wooden Horse of Troy'. This is available now (April 2016). It is a one-person show performed by Clive Holland, and is a fast paced, humorous look at one of the great Greek tales of love, war and intrigue.
Homer's epic poem, the Illiad, written some hundreds of years after the Trojan War, is based on several oral tales that were told for centuries by travelling storytellers in ancient Greece. Mischievous Theatre's version of the story, told by Carpentius the carpenter, follows in the footsteps of those early storytellers and tells the tale in an exciting and understandable way for a modern audience. To book this show for your school, theatre or arts centre e mail Clive at mischievousclive@rocketmail.com or ring 0797 122 3282.
'I Have Lost Myself …' is a new and very different and mischievous unknown. It is a very visual, poetic and adventurous performance piece with live action, projection, sound, puppetry and dance that explores memory and Alzheimer's disease. The production is a non-linear fragmented narrative that blunders through a diseased brain, a sketchy biography of Alzheimer's Disease and the erratic memory of an unreliable narrator.
For the slightly more distant future we are intending to re-make and tour 'The Man in the Wide-Awake Hat; A Gothic Adventure'. This play about the life of Architect and polymath AWN Pugin was performed in Ramsgate in 2013.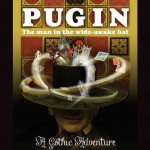 AWN Pugin: Architect, Designer, Theorist rushed headlong through a turbulent life; shipwrecked, bankrupted, widowed twice, driven to madness and died at forty. Pugin, taking on life at full-tilt designed cathedrals, reinvented the family home, gave the world one of its most iconic buildings and inspired a generation. Driven by his faith, he created beauty and pointed to a better future. His thoughts still resonate in our brutal twenty-first century world.
Even further into the future Mischievous Theatre is intending to produce a multi-media production, 'The Square'. Originally written to be listened to, 'The Square' is a poetic and meandering tale of the residents of a square in a seaside town on a particular day in summer in twenty-first century Britain.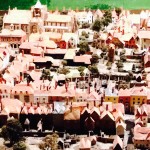 'The Square' is very definitely in the deep end of the Unknown but the plan at the moment is to create a visually stunning piece of performance art to recreate the square through projection, sound and a built Victorian landscape and to create the story through text, sound, music and a huge dose of "not sure". There will be a novel sized programme that accompanies this production that tells each of the character's back stories.
So, watch this space and if anything excites you, or you want to ask a question,get in touch.