April 2016 … Where Are We Now?
September 7, 2013
After an exciting year of touring The Sagas of Noggin the Nog and showing I Have Lost Myself … as a Work-In-Progress piece at Theatre Royal Margate May 2015, we are heading into a new and slightly different 'unknown'. We seem to spend a lot of time paddling in the shallow end of the 'unknown'; it is an exciting place to paddle in.
For a start, we are creating a new performance for young people; 'The Wooden Horse of Troy'. This is available now (April 2016). It is a one-person show performed by Clive Holland, and is a fast paced, humorous look at one of the great Greek tales of love, war and intrigue.
Homer's epic poem, the Illiad, written some hundreds of years after the Trojan War, is based on several oral tales that were told for centuries by travelling storytellers in ancient Greece. Mischievous Theatre's version of the story, told by Carpentius the carpenter, follows in the footsteps of those early storytellers and tells the tale in an exciting and understandable way for a modern audience. To book this show for your school, theatre or arts centre e mail Clive at mischievousclive@rocketmail.com or ring 0797 122 3282.
'I Have Lost Myself …' is a new and very different and mischievous unknown. It is a very visual, poetic and adventurous performance piece with live action, projection, sound, puppetry and dance that explores memory and Alzheimer's disease. The production is a non-linear fragmented narrative that blunders through a diseased brain, a sketchy biography of Alzheimer's Disease and the erratic memory of an unreliable narrator.
For the slightly more distant future we are intending to re-make and tour 'The Man in the Wide-Awake Hat; A Gothic Adventure'. This play about the life of Architect and polymath AWN Pugin was performed in Ramsgate in 2013.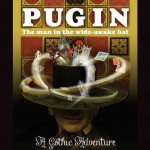 AWN Pugin: Architect, Designer, Theorist rushed headlong through a turbulent life; shipwrecked, bankrupted, widowed twice, driven to madness and died at forty. Pugin, taking on life at full-tilt designed cathedrals, reinvented the family home, gave the world one of its most iconic buildings and inspired a generation. Driven by his faith, he created beauty and pointed to a better future. His thoughts still resonate in our brutal twenty-first century world.
Even further into the future Mischievous Theatre is intending to produce a multi-media production, 'The Square'. Originally written to be listened to, 'The Square' is a poetic and meandering tale of the residents of a square in a seaside town on a particular day in summer in twenty-first century Britain.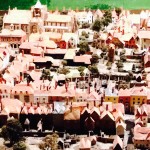 'The Square' is very definitely in the deep end of the Unknown but the plan at the moment is to create a visually stunning piece of performance art to recreate the square through projection, sound and a built Victorian landscape and to create the story through text, sound, music and a huge dose of "not sure". There will be a novel sized programme that accompanies this production that tells each of the character's back stories.
So, watch this space and if anything excites you, or you want to ask a question,get in touch.
What are we up to now?
July 9, 2013
19th April 2015
If you scroll ⬇down, down, down … you'll find the very beginning of this blog … which started three years ago. The Man in the Wide-Awake Hat blog has now migrated to …
http://thewideawakehat.wordpress.com/the-blog/
The Man in the Wide-Awake Hat Facebook Page can be found at:
http://www.facebook.com/TheManInTheWideAwakeHat
… there is also a The Sagas of Noggin the Nog blog, which can be found at …
https://nogginthenogblog.wordpress.com
The King of the Nogs Facebook Page is here …
https://www.facebook.com/kingofthenogs
… but now for something completely different …
I Have Lost Myself …
A brain rides on a train. A traveller forgets where he is. Two neurons go into a pub. Roads fall off a map. A man remembers only things that never happened.
I Have Lost Myself … uses text, sound, images and action to take you on a befuddled adventure through the shattered world of Alzheimer's Disease.
A non-linear fragmented narrative blunders through a diseased brain, a sketchy biography of Alzheimer's Disease and the erratic memory of an unreliable narrator.
I Have Lost Myself …
… is Mischievous Theatre's newest project. So new, in fact, that we're still not entirely sure what it is or how it works. We will be performing a work-in-progress version in May 2015 at Theatre Royal Margate (if you want to come along, follow the link below for more details). It is an investigation into Alzheimer's disease. Some years ago my mother suffered with Alzheimer's. This piece of theatre/performance art is based on thoughts, images, ideas and suppositions that came into my mind as I spent time with her. I will say no more now but will add more information, images and thoughts as we find out more about the project. So, see you later …
The Man in the Wide-Awake Hat: Pugin's Gothic Adventures will be touring (hopefully) next year, 2016 … so, if you are interested in architecture, the Gothic revival, design and so on, please watch this space for more information!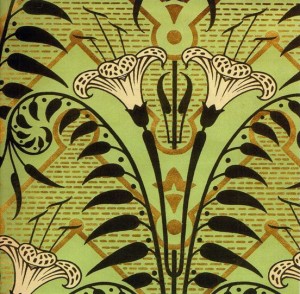 Gothic Lily Wallpaper by AWN Pugin.
Since I started this blog, well over a year ago now, so many things have happened … you can read about many of them if you scroll down ⬇ The play about AWN Pugin, the nineteenth century architect, designer and theorist has been on quite a  journey and it is still a long way from reaching its final destination … the sat nav has been thrown away and we're navigating by … well, instinct mainly I suppose. The play will be performed in Ramsgate, Kent, UK on the 19th, 20th and 21st September 2013 and, once we have found more money, it will tour … the world (well, bits of it). To keep up with events and dates and other interesting stuff to do with The Man in the Wide-Awake Hat: Pugin's Gothic Adventures follow the link; all the news is being updated on the new blog.
But just to whet your appetite: Clive is running a workshop; "Clothing the Skeleton", a practical workshop based on the methodology that we're using to create The Man in the Wide-Awake Hat and doing a talk "The Story of a Play", about the research, writing, the methodology used and how the play will go from page to stage at The Summer Squall, an arts festival in Ramsgate, Kent, UK on the August Bank Holiday weekend (24th, 25th and 26th August, 2013) run by Ramsgate Arts: take a peek at their website. http://ramsgatearts.org
If anyone else wants a workshop or a talk please let me know (It is probably quicker to contact me through the Facebook page, I look at that every day).
Other stuff that we're doing.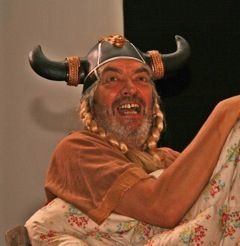 Queen Grunehilde the Lazy One; beautiful isn't she. Mischievous teamed up with Third Party Productions to produce The Saga of Noggin the Nog, based on the original films of Oliver Postgate and Peter Firmin. We toured earlier this year and the show, a real family affair, was a great success, we are hoping to tour it again next spring (2014) … we'll keep you posted here!
You can follow us on Facebook, just clickety click;  http://www.facebook.com/kingofthenogs
Or you can have a peek at the blog, though I haven't updated it for a while, its at: http://nogginthenogblog.wordpress.com
The future, beyond Noggin and The Man, is exciting. There are two new projects in the air at the moment, and two old-ish ones; all of which may or may not come to fruition (it is all in the lap of the recession, that we may or may not be in) but the new ones are completely different beasts. The first, a community based project, with the incredibly inventive working title of "Dreams", is about dreams and the second, again inventively titled "The B Movie", is a play based on those wonderful fifties and early sixties science fiction B movies … only instead of being set in small town Utah, it will be set in small town England. The two older projects that have both had mini-airings; "The Con Man", a one man show which may be increased to two, is based on the life of a Shakespearean Actor and concerns Kit Marlowe's demise and the second, "The Square", is a project that I wrote and had a rehearsed reading of two years ago at "The Summer Squall", and concerns the lives and events of people who live on a small square on one particular day.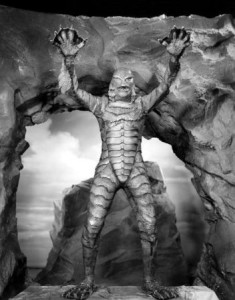 They came from outer space … or a black lagoon!
These are projects that I am quite excited by but I know that little will happen with them for a while as my brain is full … to the brim; but do keep checking on here to find out what progress, if any, has been made on them. This post is coming to an end … short but sweet … I have serious work to do on "The Man …" or there won't be a play!
Thanks for dropping in; see you there!
The Man in the Wide-Awake Hat Diary.
January 11, 2013
Oh Dear … Another Year …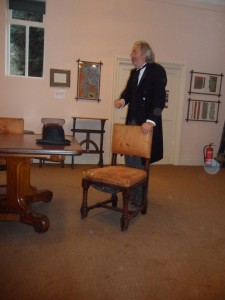 It is about a year, Dear Reader, since I started working on "The Man in the Wide-Awake Hat" … a year! How can making a piece of theatre last that long, I hear you ask? And the answer is … some itches are harder to scratch than others. It all depends on the nature of the itch … some itches are near the surface, some are in an easily get at-able spot, some are mere trifles, some are hardly worthy of the title "itch" and some, oh some, are deep and hidden and awkward and huge and very definitely harder to reach. These deep seated itches; the sort that are often in slightly embarrassing places, where scratching them can cause offence, broad grins and a pulled muscle, can take a lot of serious scratching … and you can scratch them time and time again and yet a ghost of an itch remains. Such it is, Dear Reader, with "The Man in the Wide-Awake Hat". The original itch, the one that started well over a year ago, is taking a lot of scratching.
I think that all creative and artistic endeavours begin with an itch … or a desire, a need … there is a story that has to be told, or a scene that has to be painted, or a  dance that has to be choreographed and the artist has no choice but to scratch. Such it was, is, with the life and times of AWN Pugin. His life, his story, his loves, hopes, fears just have to be experienced by as many people as possible and the only way that this can be achieved is for me to steadily but surely create a stunning piece of theatre that will do him justice. Of course, there have been a great many distractions … last year I wrote two plays for Proteus Theatre, helped run a Summer Squall (an Arts Festival down here in sunny Ramsgate), directed "You All Know Me – I'm Jack Ruby" with Cliff Barry, created a short one-man play about John Hardman-Powell (Pugin's one and only pupil/assistant … that is me being him in the photo above) and helped create and perform in "The Sagas of Noggin the Nog", a co-production between Mischievous and Third Party Productions, which ran in London for two weeks and is due to go out on tour in a months time. That is me as Queen Grunehilde in the photograph below (beautiful, I hear you say). So, I haven't been sitting on my bum and twiddling my thumbs … honest. And in the midst of all of this, I have been slowly noodling about with "The Man …"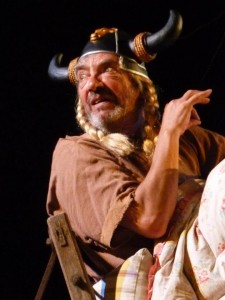 The first half of the nineteenth century in Britain was a period of enormous change … one of the greatest changes, driven by the huge strides made in technology, was that we turned from being primarily a rural economy to an urban one. Towns and cities grew out of all proportion and people who had once worked on the land, now worked in the modern manufactories that sprouted the length and breadth of Britain. Thousands of houses were thrown up to accommodate these new factory workers and urban dwellers. Lifestyles altered beyond recognition as did the economy and the politics of the land. AWN Pugin was born with one foot in the old fashioned Georgian era and one foot in the new steam-driven Victorian age. The story of his life is also the story of the lives of all who lived in those fast-changing times. When I first started to research into Pugin and his life, I was aware that there are an enormous amount of parallels between his altered world and the technological, economic and political changes that are occurring in ours. His story is in many ways, our story. There are resonances that are impossible to ignore … it is for these reasons that "The Man in the Wide-Awake Hat" feels like an important story to tell and an important story to get right. That is the itch that I have to scratch.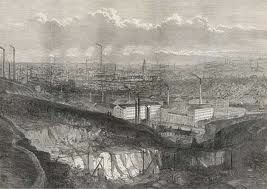 I have a script … sadly, it is about eleven hours long but I do have a script. I have a wonderful director, Ellie Jones. I have, at the moment a huge number of designers that I unfortunately have to whittle down to one. I have a fabulous composer; Mark Bandola. I have an amazing sound designer; Filipe Gomes. I have a number of superb performers. I have a stunning group of film-makers. I have a clever, witty and academic dramaturg. I have a technical producer that will not be phased by anything that is thrown at him. I have a consummate producer. I have a huge amount of chums who all want to get involved. I have some super community artists. I have two incredibly passionate educationalists. What I don't have … YET … is enough money to make it all a reality. But, Dear Reader, when the itch itches nothing will stop it until it has been scratched into extinction. "The Man in the Wide-Awake Hat" will be performed in June and July this year and not even the itch-inducing head-louse of destiny will alter that.
The Man in the Wide-Awake Hat Diary
November 5, 2012
Hob-Nailed Boots?
Dear Reader, it has been a long time since I have put pen to paper or even finger to keyboard. Why, I hear you ask? Well, it has been a funny couple of months, I answer … funny, as in slightly strange rather than particularly peculiar or even peculiarly ha ha or even particularly tee hee! Slightly strange in a very-creative-but-something-totally-different sort of way. I think I've made myself clear! Life sometimes has this knack of wearing hob-nailed boots and jumping up and down on one's creative plans.
I suppose it all started back in August. Down here in Ramsgate, Kent, which is on the little bobbly bit that sticks out into the English Channel, we have an arts festival; The Summer Squall. This year (2012) was the third Squall, and a fabulous long weekend it was … we had Opera, Theatre, Street Performance, Visual art, Storytelling, Music and a hundred other things. I usually end up doing far too much, being a part of Ramsgate Arts who organise the festival but this year I had to concentrate on Noggin the Nog; a theatrical production of Oliver Postgate and Peter Firmin's beautiful films from the early 1960s and 70s. Mischievous Theatre is working with Third Party Productions to produce a play based on these beautiful films (you should be able to find more information about the production somewhere else on this site and to find out more about Noggin the Nog and Third Party Productions, I will add a couple of links to the end of this post).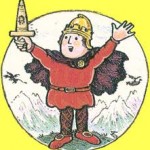 Just to deviate slightly from what I was saying about why I haven't added to the blog for some weeks, I would like to talk a little bit about stories and storytelling or rather story showing. About a million years ago, when I was a young man, there was a documentary on the BBC (I think) about China … it was called something like "In the Mouth of the Dragon" … or something completely different … anyway, it looked at life in China. One episode began, whilst the credits were going up the screen and the programmes opening music was playing, with the screen filled with a pair of very skinny legs pedalling a bicycle up a ridiculously steep hill. Slowly the camera panned out and you could see that it was an elderly man cycling in a very remote part of rural China and his bike was a bit like an Italian Ice cream sellers bike, or rather, trike, with two wheels on the front and a large box … he also had a small trailer on it (I think, though my memory is very hazy).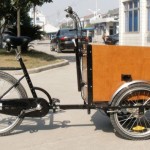 He eventually arrived at a small village where he was taken inside, given a chance to wash and was then fed. He then went back outside where the entire village had gathered around his bike. He opened the box and pulled out a kind of flip-chart contraption. He opened the flip-chart and on the first page was a beautiful drawing of a young rural woman. He started to tell a story and at exciting moments in his story he flipped the chart over and there was another beautifully drawn and coloured picture that related to his tale. Now, I have no idea what his story was about, it was in Chinese and I have barely mastered English but … it didn't matter. The camera, you see, was not only focussing on the storyteller but also the audience … and they were in raptures … they were laughing, they were surprised, they were scared, sad, and every other emotion you can think of. Now, this was 40 years ago and I'm sure that the rural area that he was telling his stories in did not have television, it was before smart phones and kindle and the like, so maybe the audience were not inundated with recreational diversions but even so, they were rapt. And, indeed, so was I. It got me a thinking, Dear Reader! Storytelling, in all its forms, can transport people to another place; another world. It can open people's eyes, it can bring people together, it can inform, provoke, entrance and entertain. So, I thought, I should always try to make theatre that has at its heart … stories: and as far as I can remember, I have always done this. Of course, there are millions of ways of telling a story. Now, back to the plot; Noggin the Nog is fantastic storytelling and Peter Firmin's drawings are beautiful, simple and very informative; they aid the wonderful storytelling of Oliver Postgate; they lift these simply told stories into the realm of genius.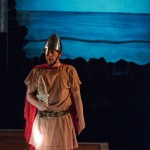 Third Party Productions, with a little bit of help from Mischievous Theatre and stylishly directed by John Wright, is producing "The Sagas of Noggin the Nog". Through the use of live action, live music, puppets and video projection of Peter Firmin's original film, we are re-telling these beautiful stories in theatres up and down the land. We premiered the first half of the show at the Summer Squall and we are going into rehearsal soon (end of November) to add another of the tales to make a full length show. And now, Dear Reader, the nub of the tale. "The Man in the Wide-Awake Hat", which is going into production next summer (2013) has had a bit of a sabbatical … I have had a bit of a sabbatical from "The Man in the Wide-Awake Hat" to be strictly truthful but all is still in hand. A little break from AWN Pugin has done me the world of good. I have re-kindled my inundated enthusiasm for the Victorian polymath by working on other creative things. To whit: Noggin the Nog, You All Know Me – I'm Jack Ruby (a play written and performed by Cliff Barry and with a bit of directorial help from yours truly), a new play (as yet untitled) about Edith Cavell, the First World War nurse executed for helping allied soldiers escape from occupied Belgium, The Chalkies, a series of stories for young people and painting my front door which had become visually very sad.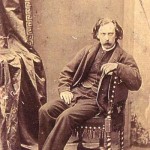 I didn't completely forsake "The Man …" over the last couple of months. I performed a short one-man piece for Kent Coastal Week at the Grange, Pugin's home in Ramsgate, based on the memoirs of John Hardman Powell (the Victorian gentleman on the left). We also put a call out for Designers to work on the project and I am at the moment trawling through the CVs, photographs, websites and videos looking for the right person. I have also done a number of talks and workshops and we are also working on the community and educational strands to the project and … and … and … it is never ending Dear Reader.
So, I hope that this instalment of the blog has a) answered the question that I (and surely you too, Dear Reader)posed at the top of the page, b) satisfied your craving for more news and c) informed you of all the other wonderful stuff that is going on down here on the bobbly bit that sticks out into the English Channel.
But now the Hob-Nailed Boots of time have trampled on my creative juices … ugh … and I must, for now at least, love you and leave you. See you soon Dear Reader and in the meantime, look out for Noggin and Jack Ruby.
Here are a few links:
www.facebook.com/kingofthenogs
The Man in the Wide-Awake Hat Diary
September 10, 2012
The New Houses: Pugin's Last Years.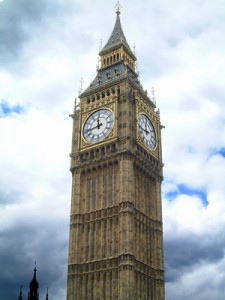 In 1844 Pugin, widowed for a second time in his short life, moved into his new house, The Grange, in Ramsgate with his young family and began working in earnest on the designs for the Houses of Parliament for Charles Barry. In February 1852, Charles Barry visited Pugin in Ramsgate and Pugin supplied him with the detailed design for the clock tower for the Palace of Westminster; this was Pugin's last design before descending into madness and, on 14th September, death in Ramsgate.
Dear Reader, in the last blog entry (which, if you haven't already read it, is below this one), I mentioned that we were doing a two pronged attack on the arty sensibilities of all Pugin-ophiles: prong 1, The Man in the Wide-Awake Hat, prong 2, An intimate evening with AWN Pugin … a smaller-scale performance, lasting about half and hour, and acting as a "curtain raiser" for the grander piece. Well, the little bit of blurb that you have (hopefully) just read, is the essence of the intimate evening: it will be followed by a short talk by "yours truly". This small scale, intimate and dramatic piece of theatre that follows Pugin through his last eight years of life, will be performed in small-ish spaces during November 2012.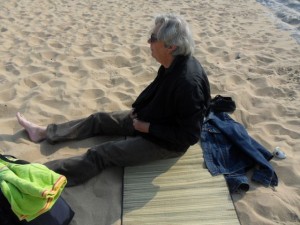 On the left is yours truly sitting on the beach and thinking. Not just ordinary thinking but blue sky thinking … I'm on the beach and although you can't see it, the sky is blue. And what, Dear Reader, am I thinking about? I shall tell you … or we'll be here all night … I'm thinking about how to make two pieces of theatre instead of just one. The thing is, the two pieces are going to be completely and utterly different in style and content; one is for huge venues and one for tiddily-tiny ones; one is big and bold, the other small and exacting; one is spectacle and the other is intimate; one is adventurous the other is perhaps more modest … both are exciting and innovative, (Sorry, I know those words are overused but I believe that they are the right ones to use in this case).
Dear Reader, a few weeks ago (August 25th, 26th and 27th) we had a spectacular arts festival, here in Ramsgate, Kent, The Summer Squall, run by Ramsgate Arts: Ramsgate Arts is a small team of people who spend thousands of hours a year attempting to create an exciting and innovative (doh, those words again) festival which will appeal to as wide an audience as possible and working with local and UK/International artists. This years festival was the best so far with thousands of people heading to our beautiful little town to partake in a wide variety of arty things … open studios, street art, street artists, street performers, theatre, music, cinema, dance, talks, workshops, sculptures, treasure hunts, walks, storytelling, arts and crafts market and much, much more. I spent most of the weekend in a church which used to be an old cinema (the flea pit) and is now also a theatre space, helping theatre companies, storytellers, comedians, musicians and all manner of arty people get-in and set up for their performances. It was a most exciting time and, as I moved chairs, altered lights, humped speakers, flats and bits of set, I realised what a wonderful life I lead and what an amazingly wide ranging group of arty people I was meeting. There are as many different ways of doing "art" as there are grains of sand in the photograph above. I watched, asked questions, listened and generally eaves-dropped on all sorts of conversations about how people made their art, how they started, where they went for inspiration, how they created their performances, films, sounds, music and so on … I found it completely INSPIRATIONAL!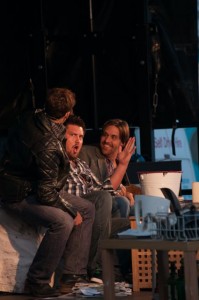 Inspiration is one of those "commodities" that is so difficult to define (so I'm not going to bother trying but if you have a definition, other than the well used one, e mail me) but I was inspired twenty times a day, at least, and I have had some very new thoughts about "The Man in the Wide-Awake Hat". It is very easy, when a project is quite difficult to put together, to rely on what you know and to take the simple and well trodden path to create a piece of theatre that is a bit like "that other thing" you did a few years ago. I'm getting on a bit now and I've made lots of pieces of theatre and to create a production in a completely and totally different way is quite difficult … it is also daunting, worrying and not the way to give yourself an easy life … but where is the fun in that? I have been inspired by other artists, like these three here in the photo from Up-Close Opera (they performed an open air La Boheme next to the beach) and by street performers and storytellers and … lots of others. So, today I am mostly thinking about how to RE-create a show that I thought I knew what it was and how it worked … it is all about excitement and innovation (doh) and re-thinking your original ideas and indeed, throwing a lot of them out! I have two shows to make: both totally different to each other, both based on the life of AWN Pugin and both more or less written … I can see a few weeks of re-writes and experimentation taking place … I can see some late nights, some long conversations, some heartache and throwing my toys out of the pram and lots of walks along the beach wrestling with my own brain (much less messy than wrestling with someone else's brain) and why oh why! have I chosen this week to give up alcohol for a short while?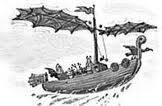 I need one of these … a flying Viking boat … to take me high into the air so that some of that blue-sky thinking can be achieved. And talking of flying Viking boats … Noggin the Nog … a new show that I'm involved with had its World Premier at The Summer Squall and it seemed to work very well and was incredibly well received … so look out for it next year … 2013!
Dear Reader, I have been on quite a personal arty journey in the last few weeks; lots of new thoughts and ideas and lots of questions have been asked (me asking me, you understand) and so, as is often the case at the end of a long journey, I need to unpack, wash all my grubby artefacts, rest, re-evaluate, take stock and generally re-think everything I know and everything I don't know. What a wonderful world we live in (if you don't count the wars and the suffering) and how fabulous that I have been reminded that it is a wonderful world!
This blog will be back … soon!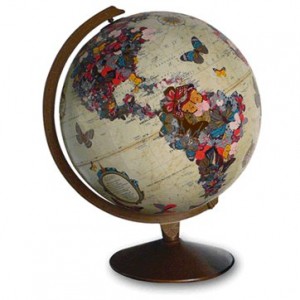 Over the next nine months Mischievous Theatrewill be running workshops, talks, working with community and educational groups and, of course, continuing to create an astonishing piece of multi-media theatre … as well as a slightly smaller piece but that will be equally astonishing. That is the wonderful world on the right by the way.
The Man in the Wide-Awake Hat Diary.
August 14, 2012
Plan B or is it C … or G or …
Dear Reader, it is such a long time since we've chatted but I've been on my holiday, to sunnier and warmer climes, (the photograph of a slightly bendy spire might give you a clue as to where I've been: I'll tell you at the end of this post) and since returning Yours Truly has been working like a lunatic on all things Pugin … except for the blog of course. So, what have I been up to? Well, just before my hols we had a bit of a sharing of "The Man in the Wide-Awake Hat" script … there is about nine hours of it at the moment (perhaps it needs a bit of streamlining). A few professional theatre chums got up and under the guiding eye of the ever-brilliant Ellie Jones (Director and all round good egg), performed in front of the assembled crowd … this was the first outing of the main project. All went well … except that the video camera decided that it wasn't a video camera (it thought it was a toaster, I think) and the result was two and a half hours of unusable film but lovely toasted wholemeal. Doh … technology! The evening was incredibly useful though; it gave me lots of thoughts to mull over and lots of changes to make.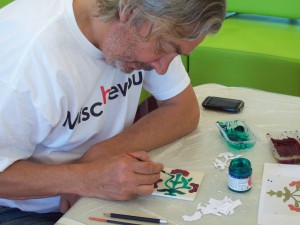 Since getting back from a very relaxing time in (?) I've been attempting to streamline the far too flabby script, as well as working on a couple of other, unrelated, projects and we've been running a number of workshops with people young and people older. We've done a few more tile painting workshops: the we being me and Emily Tull, a fabulous community artist who has been running some tile painting workshops around East Kent; she even got me to paint a tile based on a Pugin design … and to prove it, here is a photo … see the concentration on my face! (And far too many chins I note) I have also been doing a number of talks about Pugin, his work, the world he lived in and how we are going to turn all of what we know into an exciting, intriguing and entertaining piece of theatre. We've got a few more booked in over the next month or so for the public, so try and get along to one if you can … September 1st at the Maritime Museum, Ramsgate at 7.30 pm, September 7th at Crampton Tower, Broadstairs, also at 7.30 pm and others that I'll post nearer the time. I am also about to start running a few drama/theatre workshops and writing workshops for any groups that are interested (e mail me). And once the schools are back after their hols, we'll be sending out information about how they can get involved too.
Since we last chatted, Dear Reader, the project has grown and grown … it seems that every day there is another strand that has to be somehow incorporated, another venue that is interested and more people who want to get involved. Who would have thought that eighteen months ago I was thinking of doing a "little play about Pugin" … something that could be performed in an arts centre or small theatre and would have three or four performers in it and would probably run for a month or so … we are now looking at a much larger show, therefore much larger venues and a much larger cast … not to mention a much larger Educational/Community involvement strand. And it is partly because the project has grown so much that we are now on Plan B or C or even X by now.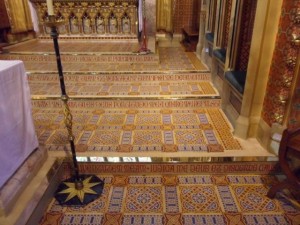 I have been wondering for a few weeks how we are going to get everything done in the time frame that we had given ourselves and I was, quite frankly Dear Reader, starting to worry that we wouldn't be able to allow the performance to expand to its optimum size. When I went up to Cheadle a couple of months ago and chatted to the lovely Hannah Barter at Urban Vision North Staffordshire as she showed me around the gem of a church there, I was thinking that perhaps we would have to rein the project in a bit and sacrifice some of the fabulous ideas that we have. Hannah told me about the huge amount of events that have been going on during this bi-centenary year and she was trying to find a way to continue to keep people interested in Pugin and his work into the future and perhaps there was an argument for carrying some things over into the next year: legacy and all that.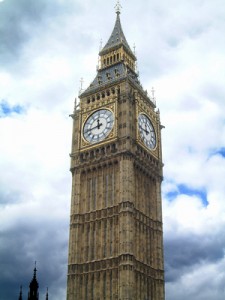 So, Dear Reader, with all this buzzing around in my easily befuddled head, Suzy and I went to the Houses of Parliament last week, to talk about the possibility of performing The Man in the Wide-Awake Hat there … be still my fluttering heart, stomach and … other areas. And, as it happens, there is a distinct possibility of performing the show in Westminster Hall but … not until May/June next year but would we be able to do something on a smaller scale for November during Parliament Week? So, on our way home on the slowest train in the world (it seemed to stop at stations in places that don't even exist), we talked about what to do now. We had to get back and then go straight off to another meeting about Ramsgate Arts' Summer Squall (Ramsgate's Arts Festival that happens Bank Holiday weekend 25, 26 and 27th August; do come if you can) and I have to say, Dear Reader, that my heart wasn't really in the meeting and I became a slightly grumpy little sausage. I sometimes take it upon my self to play the sausage role. Baboom Tsss!
So, after another meeting or two with some of the partners and funders, we have decided that there is going to be a two pronged attack on the arty sensibilities of anyone who is in the market for a prolonged Pugin-fest! It is worth it Dear Reader, I promise. In November, Mischievous Theatre is going to produce an intimate evening with AWN Pugin … it hasn't got a title yet but it will be a short performance piece based on Pugin's life (and death) in Ramsgate and the astonishing and monumental amount of design work that he did at that time on the Houses of Parliament for Charles Barry. And then, in May/June next year, The Man in the Wide-Awake Hat will take to the road in its original and much larger form. So, two pieces of theatre for the price of one … well, almost … we will have to raise a little bit more dosh but I think, when we reveal the two projects fully, people will be falling over themselves to press dirty five pound notes into our eager and hard-working palms … won't they?
And if not, I think I've found the perfect way to slow them down a bit so that I can sit down and chat with them face to agonised face. The implement on the left is a Gin Trap … a bit like Suzy but that is another story.
Oh, and by the way … I went on holiday to France … the slightly bendy spire is on the church in the beautiful town of Conches.
The Man in the Wide-Awake Hat Diary.
July 13, 2012
Rain, rain and … Cheadle!
Last week I had a very strange couple of days! Dear Reader, on the Thursday evening I watched a performance of a new play wot I wrote in the Tudor Great Barn, Basing House, Basingstoke … the audience being mainly the Basingstokracy and … me! The young people, some of them not even as old as the socks I was wearing that night, part of the Proteus Youth Theatre (the young people, not the socks) did a fabulous job, (actually the socks did a great job too)I was really proud! I stayed that night with the Director and we talked theatre for far too long into the night and then … oh, Dear Reader, I drove to Cheadle in North Staffs.
I jumped into the car; bright and early and drove as if I was in a road movie … wifebeater vest on, a cheroot hanging out of my mouth and a bottle of Bourbon in the glove compartment. All went well until … round about Newbury, the sky went dark, Oh, so dark, it was like driving into the night, the last night of the world …  and the heavens opened … oh, how they opened … the storm was biblical … raindrops as big as Gideon Bibles … bounced off the bonnet (Did I say I was wearing a bonnet?)… now, I only have a little car …. the picture below is just to prove it (taken in better weather obviously).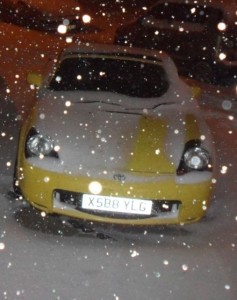 The rain came and came and came … on the M6 Toll road, the sky; dark and louring; a menacing, frowning sky that seemed to meet the ground just feet ahead of the bonnet (I've still got it on!). Puddles as big as ponds appeared across all three lanes and the hard shoulder … I skimmed across the water like a flat pebble thrown across the surface of the sea by a small schoolboy wearing shorts, sandals and an ice cream moustache. And still the rain came. And came. The mad fools that were still on the road … me, obviously … and thousands of others … slowed to a crawl … then breast-stroke, then that funny withered arm swimming that people all seem to do in public swimming baths. Headlights bounced off the sheets of precipitation that hung, like slash-curtain, across the road. The sky grew darker. Then the thunder rumbled overhead … and underseat … and betweentoes … and aroundcar … the thunder rolled and crashed … the rain came … and then the lightning … and then, through the gloom … the Toll Plaza … Plaza? Blooming heck … I've done a wrong turning somewhere in the gloom and ended up on the continent! I looked at the confusing signs above the Toll Booths … or Toll Bastille … they all had the same picture of a robots hand holding a card … so, which one do I go to as I haven't got either a robot hand or, indeed, a card. One in the middle obviously. I queue up behind a truck and a car and caravan … I edge forward … the Toll Cubicle or Niche … is unmanned … there is only a slot to put a card in or one of those strange basket affairs, like a basketball hoop, to throw money into. I have a TWENTY POUND NOTE … Ah, Dear Reader … now what?
Just behind the Toll Cubbyhole or Toll Facility … there is a button that says HELP … well, the button doesn't actually say anything but beneath the button there is a sign that says HELP … I press the button … beep, beep, beep … then a broad west midlands voice creeps out of the tinny speaker; "What?" "Oh," I say, in my finest grovelling voice, "I have only cash" "What?" says the tinny speaker. "I haven't got a card, I've only got cash," even more grovell-ier than before. "I'm not open," says the Tinny one, with a certain amount of finality. "I'll stay here till you are then," I say, aware of the queue of Toll Plaza professionals behind me. "What?" "I've only got cash," I say retreating, "I haven't got a card", I wait.
A vision in bright yellow appears from behind the Toll Pigeonhole or Toll Apartment; it is a man … this much I can tell from the hairy chin and nobbly nose, "I'm closed. Number one and two are open", says the voice that sounds exactly the same as it did through the tinny speaker. "So …", before I can finish the sentence, he thrusts a big hairy hand into the car. I hand him a TWENTY POUND NOTE … he looks at it as if I've given him a poisonous asp … "TWENTY POUNDS?" he says … "Yes, that's all I've got."
"TWENTY POUNDS?" I was about to say "Yes, that's all I've got" again, when he stomped off and disappeared behind the Toll Cloister or Toll Retreat. I waited. The rain fell. I waited a bit more. He returned, shoved fourteen pounds and fifty pence into my hand and said, "I'm closed, number one and two are open. You should have gone to the one that's open … I'm closed." I was about to get mildly shirty and say something like, "Well, perhaps you could make that clear by having a different picture above the one that is open to the one that is closed." I didn't get a chance. He disappeared behind the Toll Niche or Toll Cupboard and I never saw him again. The rain came.
I drove through the roughest sea I've ever come across on an A road in the West Midlands. All around me there were roads closed, flooded or just looked like the sort of road you shouldn't go down in a little yellow car. I drove on and so did the rain. Eventually I arrived in Cheadle,  parked the car (in a huge puddle obviously as there was nowhere to park the car that wasn't in a large puddle. Cheadle was in fact a very large puddle with a few sticky up bits) and went into The Pugin Centre.

There, I met Pugin … that's him on the right … he was fairly quiet, which I suspect was not usually the case with AWN whilst he was alive. I also met the lovely Hannah, who I have had an e mail and telephone relationship with for a few weeks. She made me a cup of tea and offered me an Iced Fancy … oh, heaven. We talked about The Man in the Wide-Awake Hat, Cheadle, workshops, Festivals of Light, funding, other Pugin events, other people who are making things happen, other venues in the area, and … well, Dear Reader, we talked for ages and then we went for lunch and talked some more. Then she gave me a guided tour of St Giles' Church; Pugin's Gem. If you haven't seen it, you really must, it is a theatrical symphony of colour, design and statuary. I say theatrical, I know that many will disagree with using so "base" a word about a place of worship but I'm sorry, it is a theatrical experience. As I entered, the church was empty and in darkness, except for the Chancel … this was lit, like a stage, from the weak and wishy-washy sun that crept through the windows high above. It was a very spiritual moment standing there in the semi-darkness and gazing onto such splendour.
Hannah turned the lights on and slowly the whole interior of the church began to glow. The colours of the painted walls and the tiles on the floor seem to battle with each other for supremacy. It is a stunning building from top to bottom, front to back.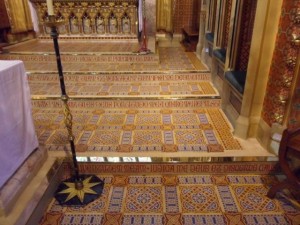 Hannah gave me the full guided tour, explained some of the history, the battles that Pugin had, the money that was spent and the perfection of the materials that were used. We talked about Pugin's character and his philosophy of architecture and design. At that point the door opened and in came Father Sandy Brown in a bit of a panic. "It's coming, it is coming!" he said. "What is father?" "He came to the … but I told him … he'll be here any second … he'll be here." We waited as Father Sandy walked about and very excitedly spoke of IT being there any minute.
"It'll have to come through the doors" and so the West Doors were opened … and through the pouring rain came a delivery man, pulling a trolley with a large wooden crate precariously balanced upon it. He heaved it up the steps and the crate rocked and rolled on the trolley. "Careful, careful." The delivery man hauled the trolly towards the doors. Hannah and I got the ramp and set it up … there was no way he was going to get his trolley up the steps. The crate of course was too wide to go through the open doors, so, with a bit of jiggling and hauling, pushing and pulling, we managed to get the crate in and up-ended it on the floor.
"What is it, Father?", asked Hannah peering at the crate.
"It's a statue, from Lourdes …"
We chatted to the priest for a while and then wandered back to the Pugin Centre and another cup of tea and an iced fancy. Dear Reader, it has been quite an eye opening process this researching Pugin and trying to organise productions of a play about him: I have met some of the nicest, friendliest, warmest, maddest, intelligent, excitable and committed people I have ever met. There is something about the sort of person who is going to be interested in a sort of person like Pugin that glows … I suppose they are all happy with their lot … anyway, it seems to me that the whole world of Pugin-ites is filled with cheery should and good eggs!
After a very successful and fruitful afternoon it was time to drive home … and the rain came, and came, and came … I did get home but I had almost lost the will to live by the time I pulled into Ramsgate … where the rain rained, the wind blew and the kettle was put on and tea and another iced fancy was noshed as another odd day in the life of your intrepid blogger came to an end. As I climbed into bed … the rain rained!
The Man in the Wide-Awake Hat Diary
July 4, 2012
5th July 2012
In Search of the Beautiful again, again … again.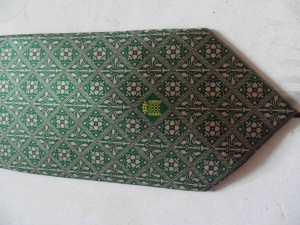 Part 3 of a series of at least three.
Dear Reader, as promised in the last post, the Houses of Parliament Pugin design silk tie … steady, steady, calm down … don't get too excited … it is only a tie! A special tie admittedly and will only be worn on official The Man in the Wide-Awake Hat occasions. For those new to the blog who might be a bit confused by the excitement that this tie may cause, please scroll down and find out all about it in the previous post … and where have you been until now, for goodness sake?
So where did we get to? Ah yes, there was lots of agogging going on in the last post … that was me being agog at some of the most amazing design in the Houses of Parliament. Well, since then so many things have happened on the trail to produce a piece of theatre about AWN Pugin that I am still agog. For a start, I have asked one of the most exciting and perceptive of Directors, if she would direct the play for me … and she has said "YES" … hooray. Who is she, I hear you ask? Well, Dear Reader, she is Ellie Jones (check out her website which is www.elliejones.co.uk )she specialises in making "extraordinary things happen in the most unlikely circumstances". It works for me! And I believe that it will work for The Man in the Wide-Awake Hat too; it is no ordinary play and it is being performed in unlikely places. We had a nice long chat about the project this week over tea and iced fancies … actually I lied about the iced fancies, I did mean to buy them but I forgot, buffoon. And, as always, it was me who did most of the talking but Ellie does have the uncanny knack of asking the most pertinent and penetrating questions that leave a chap floundering … though, I pulled my homburg down over one eye, clamped my teeth around a cheroot and, in my best Philip Marlowe voice, said … "You won't catch me with that one, I got an answer for everything" … which gave me just enough time to come up with an answer for everything. We had a good chat and I think that we will be able to work together brilliantly; we seemed to be on the same wavelength: well at least Ellie was.
Earlier on in the week I had a meeting with Emily P … of Scandalmongers, website www.scandalmongers.co.uk about workshops, talks and "sharings" … over a glass of beer and a plate of iced fancies … sorry, once again I lied about the iced fancies, I forgot to buy them; buffoon. Emily has been sorting out all of the above as part of Mischievous Theatre's ongoing community and education programme. It is really important to me to increase people's awareness of AWN Pugin, his work and connection to Ramsgate and also to give people the opportunity to work with professional (and fabulous) artists and to connect with other like minded, and especially, differently minded people. It is what makes the world go round. PAUSE. Sorry about that little pause but I just had to check out the window that the world is still going round … it is!
Last week I had a meeting with Ben Wakefield and Alix Cavanagh, about the Education programme over a beer, curry and a plate of iced fancies … no, no, no … there were no iced fancies but there was a complimentary rice pudding … riced fancies? Anyway, we are putting together an education programme for Primary and Secondary Schools for next term. We will be working on different areas of the curriculum using AWN Pugin and his work as a catalyst to some pretty cool stuff. Again, it is very important to me that we try as hard as we can to acquaint people with AWN, his work and also to increase people's awareness of the built environment that we live in; the reasons that buildings look the way they do, what effect they have on our sensibilities and the difference that the sheer beauty of well designed objects can have on our well-being. Pugin changed the face of Britain, as Rosemary Hill says in the prologue to God's Architect, "He gave the nineteenth century a new idea of what architecture could be and mean." It seems to me, in more recent years, that we have become a nation of people who either don't notice the built environment around us or are unable to say what we like or how something makes us feel … we are very good at articulating what we don't like but we need to be more positive, we need to be given the vocabulary to be able to give an opinion on architecture, particularly public architecture and that is what we are trying to achieve, in a small way, with our education programme.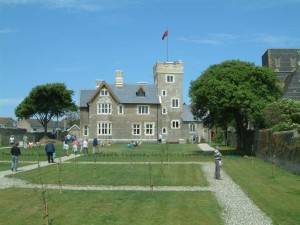 I also had a great afternoon with a group of elderly ladies and gentlemen at Napleton Court, Ramsgate, talking about Pugin, his buildings and designs and about the play and Mischievous Theatre and … all sorts of other stuff. One lady was particularly interested in stained glass windows … so I'm dropping a few pictures in to her that I took on my travels. One lady told me that she had never been to St Augustine's Church, nor had she heard of Pugin and she has lived in Ramsgate for many a year. I said I thought it was a shame that she hadn't seen it and that she ought to pop in, she said she'd try. When I got home, after making a bit of an idiot of myself by getting a traffic cone stuck under the car (I didn't see it), I thought about what she'd said and knew that the reason that neither she nor lots of others had never heard of him was that we don't make anywhere near a loud enough song and dance about him or his legacy here in Ramsgate. A few weeks ago I had a conversation about a Pugin Museum or Visitor's Centre or similar here in Ramsgate, I know it fell a little bit on deaf ears but I can't help feeling that we are missing a trick here. The lovely Suzy often tells me that she has people in the shop (Nice Things down in the Custom House on Harbour Parade www.nice-things.co.uk )who have come from all over the world … yes, that spinning world … to Ramsgate because they want to see Pugin's House and the museum … erm, there is no museum and the house is only open occasionally … oops! If we had a decent museum or visitor's centre it would attract hundreds of visitors a year who would all spend money here in Ramsgate: we could increase the wealth of the town enormously and it would be of huge benefit to the culture and education of young and old alike of the area. So, come on people, let's do something about it!
Dear Reader, thus endeth the lesson for today. I've got the finishing touches to do to an article that I've written for Sursum Corda, the magazine of St Mary's Cathedral, Newcastle, some information to write about the talks and workshops that we are offering and I need to think about a film that we are making for WE FUND … we are trying to raise some money for specific parts of the whole project and thought that it'd be worth having a punt on this particular funding website (as soon as we have made the film and put it up we'll let you know) and I've also got iced fancies to make for another meeting tomorrow … I can't be caught again with my iced fancies down.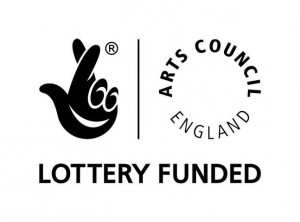 The Man in the Wide-Awake Hat Diary
June 21, 2012
In search of the Beautiful again … again!
Part 2 of … more than two.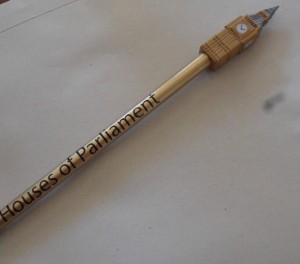 Well, Dear Reader, as I said in the last post (which in Ramsgate is the same as the first post … we only have the one) …  the lovely Lindsay took us on a tour of St Stephen's Tower, the clock tower of the Palace of Westminster. (If you haven't read the first post, scroll down, it is below this one) The tower tour, which takes in the clock, Big Ben and a whole host of … steps, is well worth doing. You have to go through quite a lot of security to make sure that you're not carrying a weapon, missile or a strong satirical bent but once you're up there it is fantastic. I did notice that they didn't search us on the way out so, if I'd had a spanner I could have made away with Big Ben … stuffed up my jumper perhaps.
Now, at the end of the tour, all the other tour-ees, pootled off and did what ex-tour-ees do, whilst we, the lovely Suzy and I were given a treat. We, Dear Reader, were taken back into the Palace of Westminster, through the underground tunnel and were aimed in the direction of Westminster Hall and left to our own devices. My device (no batteries required) was to mainly stand around agog, going "Wow" and "Phoar", looking at one of the most beautiful buildings I've ever been into, the Hammer-beam roof has to be one of the most spectacular sights ever, and to think that it was built in 1393 by the Royal Carpenter, Hugh Herland, "the greatest creation of medieval timber architecture" somebody said … Suzy managed to drag me away from Westminster Hall and into the Central Lobby … but being easily agogged I once more stood … agog … have a little peek at the picture below to see what I was agogging about. The Central Lobby was originally called the Octagon Hall … for obvious reasons. It is directly below the Central Tower, which was added to the plans for Westminster Palace because Doctor somebody or other who was in charge of ventilation (I bet that looked good on his CV) needed a large chimney to extract stale (and hot) air from the Houses of Commons and Lords. So Charles Barry, the architect, added this beautiful tower to the plans … fantastic … it didn't work … too much hot and stale air for it to cope with I suppose.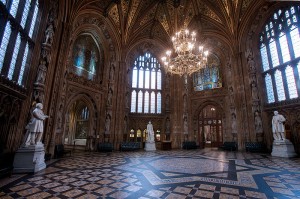 Being from Britain, Suzy and I saw a queue and joined it. It was quite a civilised queue in that we sat on a long green leather bench. We sat and shuffled along as people were called into an inner sanctum. Above our heads were enormous paintings of various historical scenes. One of these was of the Siege of Basing House; this seemed relevant to me as I've just written a play for the Youth Theatre of Proteus Theatre Company about the siege of Basing House. Eventually it was our turn. "Fill in your name and address please", said the Bobby, "And then follow me". We filled in his little form and then followed him and made our way up more stairs where a very smart woman in a tail suit and tie and a nifty badge on her cummerbund (that's not a phrase I've ever written before) asked us to wait whilst a group of German students went past. We gave our bags to a man also wearing a tail coat, tie and nifty badge on his cummerbund (twice in one day!) in exchange for a little token. And then, up more steps until we found our way into the viewing gallery of the House of Commons. Jeremy Hunt was rabbiting away (that was a very lame gag about hunting and rabbiting; it is dreadful when you have to explain a joke) about something but to be honest I wasn't interested in a word he was saying as I was once again … agog. The interior of the Commons, though not as richly decorated as the Lord's is still an agogging sight.
From the Commons we crossed the Central Lobby and went up lots of stairs (again), the walls are covered in Pugin's wallpaper, which is stunning, and we climbed up to the Strangers Gallery that looks down on the Lord's. For a few seconds we stared at Lord Adonis rabbiting on about something else … apprentices and apprentice schemes, in fact … but the fabric of the Chamber of the Lord's then took my attention. It is sumptuous and very richly painted and gilded. The ceiling is stunning as is the Sovereign's Throne … Pugin … for it is he that we are interested in Dear Reader, has designed something that would make even the most uncultured buffoon in the world go … "phoar". I did notice that the Woolsack, where the Lord Speaker sits, is a) big and b) red … it also has no back on it so the poor speaker has to sit up straight for hours on end … still, I suppose it keeps Baroness D'Souza awake during those long Lordly rambles. The Spiritual Side of the House, to the right of the Lord Speaker, is where the archbishops and bishops sit, there were a couple in attendance … along with the Government Party, whilst the Opposition sit on the Temporal side. Those who have no affiliations to any particular party sit on benches that run across the chamber and are known as Cross Benchers … the few that were there that day were neither cross nor indeed awake but that's democracy for you.
We then wandered back into Westminster Hall where there is a very up-market little shop where Houses of Parliament trinkets can be bought (though not nifty little badges on a cummerbund, I noticed) … I ended up with a Big Ben Pencil (coveted) and a Pugin design tie … which I will wear on official The Man in the Wide-Awake Hat events. It is very special and I may take a photograph of it and put it into part 3 of the In Search of the Beautiful again … again! post … there may have to be another again on the end of that. So do keep tuning in.
So, Dear Reader, my research into Pugin, his work and particularly his design work, is hurtling along at full speed. I am hoping that all of this "looking" and "agogging" that I'm doing will inform the script but for that you shall have to wait.
We are at a very exciting stage with the planning of The Man in the Wide-Awake Hat. We are organising a number of workshops: arty ones, drama/theatrey ones and talky ones. We are also in the process of putting together our Education pack and a leaflet to be sent to schools before the end of term to offer various curriculum based workshops using Pugin, his designs, architecture and his life and times as the catalyst for some exciting and creative work in schools. We are also working alongside The Pugin Society to create a few events for the general public primarily here in East Kent but also during the autumn around the UK. So, Dear Reader, if you are interested in having Mischievous in your school, or you would like to partake in a workshop, or you are a part of a group who might like to have an event, or you know someone who might be interested in any of the above … please let me know.
You can contact me, Clive, on 0797 122 3282 or by e mail to: clive@mischievoustheatre.co.uk
In the meantime … do keep your eyes peeled for other information about the project and if you want to know anything about Mischievous or The Man in the Wide-Awake Hat: Pugin's Gothic Adventures … then please get in touch.
And watch out for part 3; coming soon.
The Man in the Wide-Awake Hat Diary
June 18, 2012
18th June 2012
In Search of the Beautiful … again!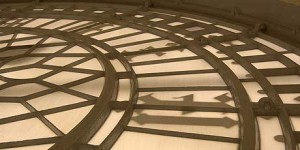 So, Dear Reader, this week, once again I am on the trail of the beautiful. The day started ridiculously early for one who is used to burning the midnight oil … 5 o clock, to be precise … I didn't even know there were two 5 o clocks in a day … to be truthful I was up at 5 but I didn't actually wake till about 6, by which time we, the beautiful Suzy and I, were on the road to the Big Smoke. We left behind the sea and the seagulls, who were beginning to shout at the sky with loud raucous voices, and journeyed towards the land that relaxation forgot: London. I have already made myself sound like a yokel, Dear Reader, but the truth of the matter is, I lived in London for many a year before moving to the seaside … so I'm only a pretend yokel really.
Anyway, despite the early hour there were many people on the road heading to work, I always find this surprising, though I shouldn't I suppose; just because I don't have to sit in a car or on a bus or a train every morning at 6AM it doesn't mean that others don't enjoy the fuming hours they spend trying to get to the place where they earn money to put a roof over their family's head. So, we arrived in South East London and jumped on a local train with, roughly, twenty-seven thousand six hundred and ninety-seven other people who were equally excited by the prospect of seeing something beautiful … though most of them didn't appear to be quite as excited as us for some reason. The train trundled towards our destination with all twenty-seven thousand six hundred and ninety-seven people being almost completely silent and staring at their mobile phones which appear to have taken over from the newspaper as an excuse for not talking to people. And, to cut a long commuting story short, we arrived at Portcullis House, Westminster, where we were treated to "airport style security", which is always fun. And, once they had decided that we weren't terrorists, they let us join the small group of people who were taking the same tour as us.
We were met by the lovely Lindsay who gave us a few instructions, told us to put our bags into a small cupboard and, after making sure that none of us had a heart condition, led us into the old Underground tunnel that led under the road and into The Palace of Westminster … for it was here, Dear Reader, that we were headed on this fine but breezy day. We walked at the pace of the slowest in the group … which sort of reminded me of the old joke about two men being confronted by a hungry lion. One of the men started putting on a pair of trainers, "They won't help you outrun a hungry line," said the other man, "I don't have to outrun the lion," said the first, "I only have to outrun you!" After passing policemen and women with guns and kevlar jackets we entered the base of the tower of St Stephen … more often, though erroneously called Big Ben.
Three hundred and fifty-four steps, said Lindsay brightly. I looked around at the man with the walking stick and the lady who was carrying far too much weight and thought, "This could take some time" but actually they were both quite spritely. We began the climb; a spiral staircase that seemed, when you looked up the middle of the staircase, to reach as high as … well, the top of a very tall tower. After five minutes or so of climbing we entered a small room off the side of the staircase and had a five minute pause on some of the most uncomfortable chairs ever known to mankind whilst Lindsay told us some interesting facts about the history of the tower and the people who were involved in its design and construction. I stared out of the slit windows across the rooftops of London … the London eye, BT Tower and lots of other iconic landmarks that seemed to me to be small and insignificant from this height. Then, Lindsay once more at the head of the group, we took off up the stairs like … relatively slow step-climbers who have just realised that we still have quite a long way to go.
We then arrived at the clock room … a fabulous chamber that smelt of grease and oil and brasso and contained the clock train … that's what they call it Dear Reader … in fact there are three trains … the Going Train, which drives the hands of the clocks … the Chime Train, which rings the quarter bells and the Strike Train which rings Big Ben on the hour. I looked out of the window and saw … the inside of the clock face … I got very excited … I am behind the face of one of the most iconic clocks in the world … how good is that. Lindsay said, "Right, off we go, not far now". And up we got and started climbing yet more stairs until we arrived in the Bell Tower itself. Four small bells … each about the size of a small car and one big bell, about the size of a big car; Big Ben. We were told about the competition to find the foundry who would cast the bell, the problems they had getting it up the tower and the crack that led to a messy court case and the finished product that should chime E natural but actually chimes E flat … good enough I'd have said.
We heard the bells strike 10 o clock … and then heard very little for the next twenty minutes … I could see Lindsay's mouth moving but it seemed to me that she was miming to a song that no-one else could hear. We looked across London, Downing Street, Buckingham Palace, Trafalgar Square and a lazy brown river that meandered east and west. Then we were taken back down into the clock room and into a gallery that ran around the building just behind the opal glass and the many tons of cast iron that forms the four clock faces. I am standing, Dear Reader, behind the clock face of Westminster Palace … once again, I was as excited as a small child in a sweet shop … I am inside the clock … I can see through a small crack across the city of London and beyond.
The tower itself … is beautiful … and so iconic of London that it is recognised the world over. Now, Dear Reader, I have a bit of a penchant for old 50s and early 60s science fiction movies … The Day the Earth Stood Still, et al. In every one of those films there is always a section that shows that the aliens have landed all over the world and not just on Jed's farm in Idaho and they do this by showing a television reporter standing in front of an iconic building that the whole world will recognise … the Eiffel Tower, the Kremlin, the Taj Mahal and, the most geographically obvious of them all … the tower of "Big Ben", usually with a red London bus going past. And I am standing behind the clock face … how cool is that!
Then came the long climb down and … I didn't mention this Dear Reader but Lindsay is actually a friend of ours and she took us into the Houses of Commons and Lords … but more of that next time …
I'll try and put the next episode up in a day or two … it was a fabulous day and I saw some of Pugin's most stunning designs, many of which he produced during his final illness. Take a peek at the Parliament website www.parliament.uk to see some of his genius.
The other exciting thing that happened is that I've been given the e mail of the Education person at the Palace of Westminster and we are going to talk in the next week or so about the possibility of performing The Man in the Wide-Awake Hat … in the Palace; now who is the cool one!
So, come back and visit this very blog in a few days time Dear Reader and I'll tell you what happened next!
The Man in the Wide-Awake Hat Diary.
May 25, 2012
22nd May 2012
About writing and rhubarb crumble and custard!
Dear Reader … you have probably noticed … and if you haven't scroll down to the last entry … that I haven't blogged for over a month. Tut, I hear you … tut, "What have you been up to?" … well, the last six weeks have been excitingly taut and creative. I've written two new projects for Proteus Theatre Company in Basingstoke, www.proteustheatre.com and I've been a thespian on the beautiful Brownsea Island for Hoodwink www.hoodwinktheatre.co.uk … and to prove it there is a photo of me with one of the resident Brownsea Island Peacocks, in a silly costume … me not the peacock … well, the peacock's costume is sort of silly too, I suppose. I've also had some very productive meetings about the Educational and the Community Involvement side of the project, and about music with the ever delightful Mark "Typewriter" Bandola and I've started writing draft 1 of the script for "The Man in the Wide-Awake Hat", and I've been notified that we have received a grant from Kent County Council (Thank you, it will be well used I assure you) – so I haven't been idling my time away on a desert island or even a dessert island (though a rhubarb crumble and custard island sounds pretty good to me).
This all means, of course, that I am behind with all the work that needs to be done but that seems to be my preferred position … leading from the back. And to be honest, I can't afford to turn down work where people give me rhubarb crumble and custard money … which by the way I had the other night, we have rhubarb that does its own thing on the allotment, so I only needed to buy the custard. Sorry, Dear Reader, I seem to be rambling and to have got off the point a bit. Rhubarb, rhubarb, rhubarb.
Back to the plot, Dear Reader (not the rhubarb plot); "The Man in the Wide-Awake Hat" script is slowly taking shape; it is, for those of you who don't know, about AWN Pugin; architect, designer of all manner of beautiful things and a man who lived a huge life in a very short period of time. He was born in 1812, so this year is his bi-centenary, hence the play and died forty years later in 1852 but during his short life he was shipwrecked, bankrupted, widowed twice, driven mad and committed to Bedlam but still managed to change the face of Britain … not bad hey? Writing scripts based on real lives and real events is always difficult and led by research but with Pugin it is doubly or even trebly so because he tore into life like a mad man and achieved more than most who lived to ripe old ages; I have to make decisions about what not to put into the play! The style of the play is, as it should be, considering the subject matter, Gothic. Pugin led the Gothic revival.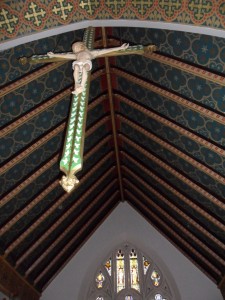 I took this photograph late last year; it is St Augustine's church in Kenilworth … I've included it because I just love the ceiling and it will give you some idea of Pugin's design style and skills. The colours are incredible. If you ever get the chance to pop into a Pugin building, do! It is worth every moment I promise you. The big question for me is, how do I capture the sheer beauty of Pugin's designs and architecture in a play? It helps to perform the play in Pugin's buildings obviously and we will also be using video projection but it is still a challenge to do justice to the man's deeply beautiful creations in a piece of theatre; I am, I know, going to tussle with this for some months to come.
I want to give you some idea about AWN Pugin's character, just to whet your appetite, so to speak, as he had a very singular way of doing things and I came across this little episode during Pugin's short theatrical career in his youth, in the book that Benjamin Ferrey wrote about Pugin's life published in 1861:
"With a view to help him in this pursuit his parents allowed him to convert the upper floor of their house in Great Russell Street into a model theatre. This he did at much expense, removing the attic ceiling, cutting away the roof, constructing cisterns, and adapting everything necessary to his object. On this model stage he designed the most exquisite scenery, with fountains, tricks, traps, drop-scenes, wings, soffites, hilly scenes, flats, open flats, and every magic change of which stage mechanism is capable. Large parties were invited to witness his performances, and probably a more skilfully made model theatre had never been seen."
When I was a young lad my parents complained about me sticking posters onto my bedroom wall; I have no idea what they would have said if I started cutting through the ceiling and putting cisterns in the roof space to create a bit of theatre. AWN Pugin's story is, as you can probably tell, an extraordinary one … he rushed through life and never let anything even slow him down let alone stop him … except, of course, death.
So, with all of the fabulous creative and innovative people around me and subject matter that was made for drama and theatre, I can't fail … can I? Rhubarb, rhubarb, rhubarb.
The Man in the Wide-Awake Hat Diary.
April 12, 2012
12th April 2012
oops!
I spent an hour writing a new post for "The Man …" diary and as it was publishing "a fatal error code" appeared … the result is below. It published the first few lines and then, as is often the way with computers and other extreme technology, it decided that it knew better. Everyone's a critic I suppose! Blasted machines! It also trashed the entire thing so that I can't retrieve it or, it seems, get rid of the paragraph that exists because it doesn't exist. I'll run the computer under the cold tap to rinse it out; should improve things I suppose.
I will attempt to recreate what I had written but, like the computer, my brain has had a "fatal error" code and so memory has been impaired but …
A New Day
In fact, it should really be called "A Number of New Days" … or even "A Number of Fabulous New Days That Have Really Opened the Whole Project Up and Made it Even More Exciting Than it Was Already" but I thought that was a bit too long. So, dear reader, what has happened over the last week or so that has been so incredibly fruitful? Well, to begin with my friend and erstwhile "partner in drama", Nick Downes (see Dressing Room) came down to the Costa Del Thanet (the Playground of the Artistic) and in between chuckling, eating, drinking the occasional glass of beer and walking around the UK's only Royal Harbour a few times, we came up with a conceit for "The Man in the Wide-Awake Hat". I needed to have someone wearing a Dramaturgical Hat to bounce ideas off and Nick had packed his DH in his holdall and with no persuasion at all, popped it on. I talked "at him" for some considerable time and put him in the picture and he, being the clever devil that he is, asked me a number of questions, that I had no answers for, and made a few suggestions, that I had never thought of and … well, dear reader, to cut a long story short (lest another "fatal error" occurs) between us we managed to find the theatrical bricklayer's hod that will carry the building blocks of the story to construct our Pugin play.
We also spent a very sure-footed afternoon in the safe hands (to mix an extremities metaphor) of Master Filipe Gomes and Master Mark "Typewriter" Bandola. Filipe, if you don't already know, is a genius sound designer and Mark, a fabulous and extraordinarily creative musician and composer, both of whom are working away, like busy beavers, designing a soundtrack that will soothe and batter the lucky audience in equal measure. Gothic music, sound that rushes too and fro around the performance space and a number of aural surprises will create, alongside live action, digital scenography and film, a spectacular and moving production that will excite, provoke and inform the assembled play goers … sorry dear reader I seemed to have slipped into marketing-speak there but I'm excited and even, if I may say without too many alcohol jokes, intoxicated by the advances we have made with the project. It is still full of huge holes and joyous unknowns but everyday it seems to rush forwards with leaps and bounds.
Another New Day Again.
Yesterday I met up with Denis Smith … photographer, artist and designer extraordinaire, to talk about one facet of the project but, as often happens, we talked and talked for hours (about 5) on all facets of the play and the greater-project (education and community events). We made all sorts of discoveries and came up with all manner of plans. Denis is one of those sort of people that you talk to and suddenly your head opens up and hundreds of ideas come charging out and you have to talk really quickly in case you forget some of those ephemeral (and often zany) thoughts and lose them forever in the ether. Denis drew a few quick sketchy ideas on the back of a fag packet and changed my mind about the way that the play will work!
So, dear reader, with all of the amazing input from all of these incredibly creative and generous people "The Man in the Wide-Awake Hat" has sped into another phase. I feel a little bit like the man who has slipped off the back of the bob-sleigh and is hanging on by his finger-tips as the thing careers down the hill and around those unbelievably high-banking corners that form the race track desperately trying to get himself back into the driving seat so that he and the vehicle arrive at the finishing line at the same time.
Dear reader … watch this space!
March 23, 2012
The Man in the Wide-Awake Hat Diary
Friday 23rd March 2012
End of the second week of Research and Development
Aha, welcome once again, dear reader, to the diary of our Pugin project. It has been a great two weeks, although it did get off to a slow start with me waking up on the Monday morning with flu-like symptoms and a general malaise; overcome by the Tuesday with the administration of oodles of Lemsip, a large dose of lying on the sofa with a duvet and the remote control and a certain amount of me feeling sorry for myself, which always seems to work. Since then I have been researching and developing like mad; meetings, reading, surfing, writing and talking, telephonically, to brilliant people who all seem to know more about AWN Pugin than I do; which is I suppose the point. I have set up a number of meetings next week and am also going to have a look at a few more of Pugin's buildings around the UK … another road trip!
So, what, dear reader have I done so far. Last week I had a very exciting and informative meeting with Tony Roche (wallpaper designer and designer of other stunning things; check out his website at www.tonyroche.com), we spoke about setting up a design competition for young people, how it would work, what it would consist of and what the amazing prize might be (which I can't yet reveal), so, all of you young budding designers, keep your eyes open here for more information later in the year. We will be advertising the competition nationwide so we are hoping for a whole host of stunning entries.
I also met up with Filipe Gomes (www.filipegomes-jigsawpieces.com) who is a genius sound designer (I mentioned him in the blog of 23rd February … so scroll down and see what I said about him then) and we spoke about producing a whole soundscape for the play. I then met up with Mark Bandola, (Google him, there are loads of videos and stuff out there) and we talked about music for the show; we talked about styles, feelings, emotions and how it would all fit together with the sound design and thankfully, Filipe and Mark have worked together on a number of projects and are very excited about doing so again … so I have got the two best people for the job working together to make "The Man in the Wide-Awake Hat" audio the best in the World.
I also met up with Len Whybrow (www.lenwhybrowphotography.com) and we discussed "The Man in the Wide-Awake Hat" documentary that we are putting together over the next nine months or so. The documentary, as yet untitled but will probably be called something like "The Man in the Wide-Awake Hat … documentary" (keep it simple, Stupid), will document the whole process of putting together a large scale multi-media site-generic performance piece and related educational and community oriented events; this will then be made available to other companies and organizations that might be embarking on a similar style of project … hopefully they will then be able to make their own mistakes rather than copy mine.
Suzy Humphries and I had a very fruitful meeting too last week; we decided to meet up at The Shipshape Cafe (once again Google them for info) where over a plate of egg, chips and beans all washed down with a mug or two of fisherman's tea, we talked about how to make the project work administratively, logically and practically. Suzy is a genius when it comes to making me think of the important things rather than the fanciful nonsense I often get excited by … don't get me wrong the fanciful nonsense is important too but if I don't get the production side of the project right the arty bit won't work either. And of course … we talked about that ever rising ugly head … money! How on earth are we going to make this project work financially … we came to the conclusion that we just had to ask people for it; so dear reader, there will be lots of applications for large amounts of wonga flying off in all directions in the next few months … but in the meantime, if you have a large amount of crisp ten pound notes clogging up your hallway, give me a ring and we'll happily pop round and clear it out of your way.
So, dear reader, it has been a very full couple of weeks and the next eight will be even more so I suspect but I definitely feel as though I have got off to a flying start … still a long way to go but we're definitely heading in the right direction. "The Man in the Wide-Awake Hat" will take the world by storm in October and November 2012 … so keep your eyes skinned and watch this space.
If you want to comment on this blog or anything else on the website do contact me Clive Holland at clive@mischievoustheatre.co.uk
The Man in the Wide-Awake Hat Diary
March 5, 2012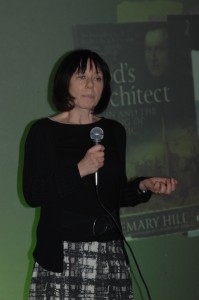 Pugin's 200th Birthday Party.
Well, dear reader, Pugin's Birthday Bash was a fabulous night. Almost 200 people (one for each year) and fun was had by all … I think … I mean, no-one came up and said "that was an awful evening and a dreadful waste of time", so I'm assuming everyone enjoyed themselves. The most exciting part of the evening for me was that Rosemary Hill, (pictured right) author of "God's Architect", the best biography of AWN, paid us a flying visit. She signed a couple of books for us, one of which was raffled, and then spoke, very eloquently, to the assembled crowd. I was particularly excited because I started this whole project after reading Rosemary's book; if you haven't read it then treat yourself to a copy, hunker down and don't come up for air until you've finished it; it is worth it I assure you.
The evening flew by, we had theatre, film, cake and some beautiful singing (including a song from the 1830s about Pugin's Book "Contrasts"). The indigo quartet sang their socks off (which was unfortunate for the assembled crowd) and took us on a musical journey through plainchant to hymns and beyond.
We sang happy birthday to Augustus, we played "This is Your Life Pass the Parcel" and, I'm horrified by this obviously, but one or two people had alcoholic beverages. We sold a few Mischievous Theatre T-Shirts, which I have to say look very fetching and ate a Victorian Buffet … the stars of which were the Gothic Birthday Cake and Kate's Lavender biscuits.
There were so many people who made the evening successful that I'm not even going to attempt to thank them all … except for Suzy. She ran around all day picking stuff up, organizing the making of hundreds of sandwiches (including Queen Victoria's favourite, Radish and cream cheese), she made table cloths, dressed the set and still managed to look beautiful when 7.30 came around and the party began in earnest. I have to say the room looked fabulous … candles and purple and green drapery everywhere and a rolling set of over a hundred images of Pugin's designs and buildings that kept people enthralled … and of course the specially written music by the ever delightful and talented Mr Bandola.
We well and truly launched the project too, with a scene especially written for the evening by "Yours Truly", to give the merest flavour of the style of "The Man in the Wide-Awake Hat". To be absolutely honest until I've completed the Research and Development stage of the process I don't really know what the Theatrical Language of the piece is yet but we experimented with film, sound, music and live action, both on stage and around the audience, with a kind of "Stealth Theatre" approach … one minute it was just me standing on the stage talking and into the middle of that big, brash and loud theatre breaks out without any warning and took all by surprise. It worked very well and I have to say it was a huge learning curve for me … still a long way to go but thanks to the Arts Council England's financial help I have a bit of time to discover the style and content of the piece.
I had an opportunity to talk to a great many people and discovered the extent of some people's knowledge about Pugin. This ranged from (members of the Pugin Society) huge to (people who came for the grub) little. Which is as it should be. My task is to excite and encourage people's interest in, not only Pugin and his life and times, but also the built environment in which we all live. As you can see from the picture of Party Goers enjoying the grub, most of the people at the party fell into a very narrow age group as well as a fairly narrow "middling" class. For "The Man in the Wide-Awake Hat" to be truly successful I have to attract a much wider section of society and that is one of the tasks that I will be researching during the R & D.
I am pleased with this as a start though; it showed me that there is an interest in the fellow and on that, dear reader, I hope I can build. So, as the next phase of the project is about to begin I can take comfort in the fact that we gave Pugin a jolly good 200th birthday party … it's just a shame he couldn't be with us.
Another Great Day
February 23, 2012
Thursday 23rd February
Another Day, Another Great Conversation
This morning, Dear Reader, the intrepid Clive Holland, with a fistful of leaflets and a head-full of slightly cranky ideas, met Filipe Gomes in the Belgian Cafe on Ramsgate's Harbour Parade; the sun shone. The Belgian, as it is known at least in my circle, is the cultural centre of Ramsgate; it has pleasant and friendly staff, a diverse clientele, over a hundred different beers and sticky tables; the perfect place for a quick meeting about Pugin's 200th Birthday Party in one weeks time (March 1st See Diary Dates somewhere else in this website).
Filipe is a genius in all things musical, technical and audio-creative and my meeting was to persuade him to do lots of technical stuff, run the sound for the event and turn up with lots of equipment and all for fifty quid, a Mischievous T Shirt and a glass or two of an alcoholic beverage of his choice. Well, Dear Reader, no persuasion was required; I forgot to mention Filipe is also a star who will do almost anything for his friends. So, after half an hour, the conversation moved into a different and more ethereal place (even more ethereal than the Belgian), a place that was much more about ideas and dreams. We talked about Audio-Mapping, Stealth Theatre, Digital-Scenography and, I suppose, Audio-Scenography; creating a kind of theatre/radio/drama/thing that the audience listen to through their mobile phones. We talked about creating an audio-play in a building where no-one is visible but each room or area the listener goes into they hear music, action and dialogue and as they move into another area the last sounds they heard fade out and new sounds fade in. We talked about creating both visual and audio scenes that change and react to your movements or your voice. We talked about … Dear Reader, we talked about many, many ideas and all, it seems, achievable … with lots of time and a large-ish quantity of money; but all exciting and dream whetting … if there is such a thing (if there isn't there should be, we talk about our appetites being whetted, so why not our dreams).
The upshot of all this was that, now I have received some R & D funding for The Man in the Wide-Awake Hat from Arts Council England, I have a million and one other things to R & D. I have new ideas, new thoughts, new and joyous unknowns to contemplate and ruminate upon. Life can be incredibly exciting if you let it!
Dear Reader, I will see you after March 1st … I have to go away now and panic about all the things I haven't done for the event.
Pugin's Diary by Mischievous Theatre
February 17, 2012
Welcome, dear readers, to the first entry into Pugin's Diary.
In October and November 2012 Mischievous Theatre will be performing a multi-media site-generic play based on the life of Augustus Welby Northmore Pugin; architect, designer and writer. The play "The Man in the Wide-Awake Hat" will be performed in Ramsgate, where Pugin built himself a house and a church and lived until his death in 1852 and in a number of buildings around the country designed by Pugin himself. We will, when all have been confirmed, put a list of when, where and how much. There will also be a number of educational and community projects and events that will run alongside the play, so you can get involved yourself, if you have a mind to.
The idea of this diary is for people like your good selves, to follow the progress of the project, add ideas and thoughts, join in various discussions, find things out that you didn't know and maybe help us out with things that we don't know and generally enjoy seeing the project come to life over the next 9 or 10 months.
Why, I hear you ask, are you doing a play about AWN Pugin?
Ahh, dear readers, a good question! Sometime last year I read God's Architect by Rosemary Hill; a superb biography of the man himself and, even before I read the book, I was hooked. I read the little bit of blurb on the back of the book, "During his short life Pugin was shipwrecked, bankrupted, widowed twice and driven to madness. Yet by the time of his death at forty he had changed the face of Britain …" now if that isn't a dramatic life, what is? And after reading the biography I was caught, hook, line and sinker.
I have now spent four months, or thereabouts, researching Pugin's life and I still feel as though I haven't as yet, scratched the surface; so, I'm still swatting, going to see his buildings and designs, talking to people that know considerably more than me, surfing the internet, reading obscure books and generally burning the candle at both ends to try to understand who he was and what made him tick.
So far, I've been to seven or eight of his buildings and have taken photographs, bought guide books and chatted to local Pugin aficionados and have realised the man was a) a genius, b) a workaholic and c) funny, amusing and exciting. So, do follow the Diary if you can and I'll see you out the other end in about ten months time.